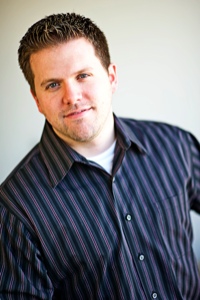 Aaron Kannowski, Owner & DJ/MC (continued)
Radio Career

My first paid job was in the fall of 1994, as a freshman in high school, when my science teacher asked me to continue to DJ the middle school dances for $50 a dance. I took him up on the offer, but I knew I needed to freshen up my music collection with all the latest hits. Since there was no such thing as iTunes at that time, my options were limited. I didn't have the budget to buy all of the latest CDs, so instead I made a phone call to the local radio station.

The person I ended up talking to was a guy named Jake, and he agreed to let me come to the radio station with my cassette recorder to copy some music for the middle school dances. I must have left a pretty good impression, because he offered me a part-time job a few weeks later. So, at the age of 15, not even old enough to drive, I was on the air at one of the most popular radio stations in northern Michigan!

Not long after my radio career began, the older sister of one of my high school friends asked if I could DJ her wedding. Not one to pass up the opportunity to perform, I deejayed my very first wedding and collected a $75 check at the end of the night. It was at this point that I realized I could make a lot of extra money as a wedding and event DJ. I saved up my paychecks, bought some professional equipment, and started booking events as often as possible.


Radio Disney

I continued to work on the radio and deejayed weddings in Michigan until the fall of 2003. At the time, I was working for a pop station in Detroit owned by ABC Radio. My boss (and program director) told me about an opportunity with Radio Disney, and he put in a recommendation for me. That job brought me to Dallas, where I became a nationally syndicated radio personality (known as "Aaron K"). It was pretty amazing to say that my "job" was to goof off on the radio and talk to 7 million kids and moms from coast-to-coast. I even got to interview celebrities on occasion. Dallas is also where I met my wife.


My Family

Kellie and I were introduced in 2005 through a mutual friend. It was a setup–a group date at a comedy club followed by dancing at the Sugar Shack on Greenville. The DJ started playing "My Humps," and that became the first song we ever danced to together. A couple days later we had our first official date at Mi Cocina in the Shops at Legacy. About a year after that, I decided to bring her back to that same restaurant to propose.

Although I had planned to pop the question during dinner, the restaurant was extremely crowded and noisy. We got on the waiting list and ducked into the Starbucks next door. Since I was anxious and nervous, I decided I couldn't wait any longer. I had prepared a poem, which I read to her before getting down on one knee and asking her to marry me. We had our wedding in her home state of Oregon in June 2007, and yes, I had our DJ dedicate "My Humps" to her.

Today, we live in Prosper with our two sons, Matthew and Drew. I currently run Uptown Sound and DJ full-time, and my wife Kellie is a nurse.