November 21, 2011
The Venue: Stonebriar Country Club in Frisco
Stonebriar Country Club
is one of my favorite places to play in DFW. They have great food, a friendly staff, and a very nice facility. Chad & Danielle moved their reception to Stonebriar from a different venue only about month before their wedding date. The coordinators Susan & Reagan made the transition smooth and easy, and they have always been very professional and accommodating every time I've worked with them.
There are two main ballrooms in the clubhouse: The Claredon Room & The Myers Grand Ballroom. The Myers Grand can be seen in my
60 second commercial
, and it's large enough to hold about 250 people. Chad & Danielle's reception was just small enough to fit in the Claredon Room. I think they had about 125 at the wedding.
The room has an antique look to it with lots of wood and earthy colors. They decided on using a reddish-gold uplighting color, which really complemented the room nicely. The awesome photographs are courtesy of
Stacie Tatum Photography
.
For sound, I included an extra speaker in the Formal Lounge (just outside the ballroom), so that guests could enjoy background music and cocktails in both areas.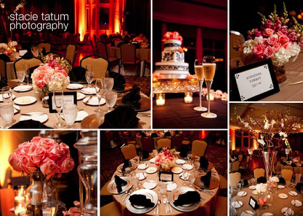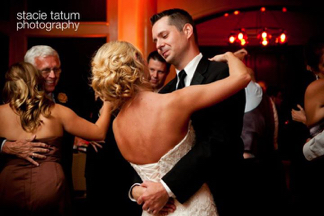 The Toasts


This wedding was a great example of having well prepared toasts. You can read some tips and hear the actual toasts in an earlier blog post titled "
Great Wedding Toasts: Tips & Examples.
"


The Music
Chad & Danielle knew their guests were coming to party, and they knew what kind of music would get everyone on the dance floor: classic rock! Their playlist below is what was
actually played
, where a ** indicates a request.
* from Chad & Danielle's request list
** requested by one of their guests
Cockails
Adele - To Make You Feel My Love [2008]
Foreigner - Waiting For A Girl Like You (single version) [1981]
Queen - You're My Best Friend [1976]
Beatles - Do You Want To Know A Secret (mono) [1964]
Zombies - Time Of The Season (stereo) [1969]
Elton John - Tiny Dancer [1972]
INXS - Never Tear Us Apart [1988]
Tears For Fears - Head Over Heels (single version) [1985]
America - You Can Do Magic [1980]
Steely Dan - Reeling In The Years [1973]
Alan Jackson - Love's Got A Hold On You [1992]
Journey - Lights [1978]
Foreigner - I Don't Want To Live Without You (single version) [1988]
Incubus - Drive [2001]
REO Speedwagon - Take It On The Run (single version) [1981]*
Adele - Rolling In The Deep (Radio Edit) [2011]*
Grand Entrance
Black Eyed Peas - I Gotta Feeling (introduction version) [2009]
First Dance
Stevie Nicks & Don Henley - Leather And Lace (single version) [1981]
Dinner
Eagles - One Of These Nights (single version) [1975]*
Temptations - My Girl (mono single version) [1965]*
George Strait - Blue Clear Sky [1996]*
Roy Orbision - You Got It [1989]
Fleetwood Mac - Hold Me [1982]
Rolling Stones - Beast Of Burden (promo single version) [1978]*
Heart - These Dreams (single version) [1986]
Led Zeppelin - All My Love [1980]
Red Hot Chili Peppers - Under The Bridge [1992]
Gerry Rafferty - Baker Street (promo single version) [1978]
Alan Jackson - Gone Country [1994]*
Van Morrison - Moondance [1970]
Drifters - Under The Boardwalk (mono single version) [1964]
Elton John - Your Song [1971]
Toasts
Pink - Raise Your Glass [2010]*
Hootie & The Blowfish - Hold My Hand [1995]
Steely Dan - Hey Nineteen (single version) [1981]
Father/Daughter Dance
Rascal Flatts - My Wish (father/daughter edit) [2006]*
Open Dancing
Journey - Feeling That Way [1978]*
Journey - Anytime [1978]*
Robert Palmer - Addicted To Love (single version) [1986]*
Don Henley - All She Wants To Do Is Dance (single version) [1985]*
The Rolling Stones - Honky Tonk Women [1969]
Knack - My Sharona (single version) [1979]*
Fixx - One Thing Leads To Another (single version) [1983]*
Rolling Stones - She's So Cold (promo single version) [1980]*
Gerry Rafferty - Right Down The Line (single version) [1978]*
Righteous Brothers - Unchained Melody (mono) [1965]*
Anniversary Dance
George Strait - Carried Away [1996]*
Jennifer Lopez Feat. Pitbull - On The Floor [2011]
LMFAO - Party Rock Anthem (Updated Radio Edit) [2011]*
Britney Spears - I Wanna Go [2011]*
Rihanna - Only Girl (In The World) [2010]*
KC & The Sunshine Band - Boogie Shoes [1978]**
The Cars - Just What I Needed [1978]*
Bob Seger - Old Time Rock & Roll [1978]**
Isley Brothers - Shout (Parts 1 & 2) (stereo LP version) [1959]**
Dire Straits - Money For Nothing (Short Edit) [1985]*
Rick James - Super Freak (Part 1) [1981]**
69 Boyz - Tootsee Roll (Rap Version) [1994]**
Cyndi Lauper - Girls Just Want To Have Fun [1984]**
Michael Jackson - Rock With You (single version) [1980]**
Michael Jackson - Beat It [1983]**
Bee Gees - Night Fever [1978]*
Fine Young Cannibals - She Drives Me Crazy [1989]*
Rolling Stones - Miss You (single version) [1978]
Journey - Lovin' Touchin' Squeezin' (single version - cold ending) [1979]*
Pink Floyd - Wish You Were Here [1975]*
Eddie Money - Take Me Home Tonight [1986]*
Outfield - Your Love (single version) [1986]*
Last Dance
Moody Blues - Nights In White Satin (stereo single version) [1972]*
Exit Music
(rose petal send off)
Fleetwood Mac - Go Your Own Way [1977]
ZZ Top - La Grange (mono single version) [1974]*