Melissa and Cody were so much fun to work with! They were married in downtown Dallas at the Main Street Garden, which was followed by a beautiful reception at the Room on Main. (Photos courtesy of
DTX Weddings
)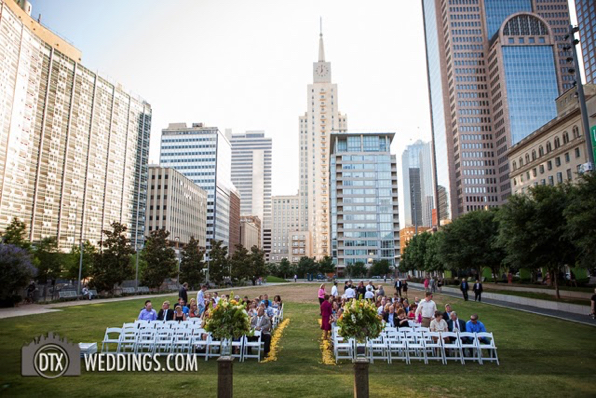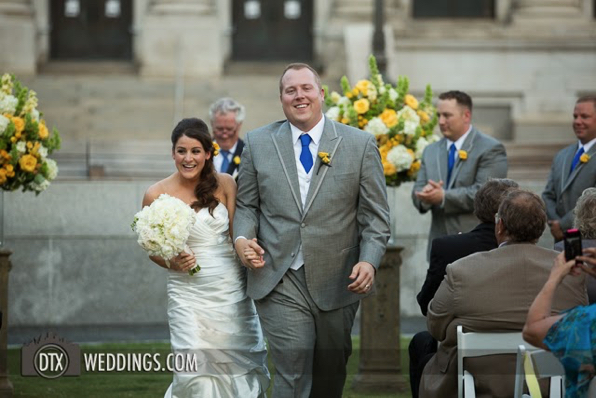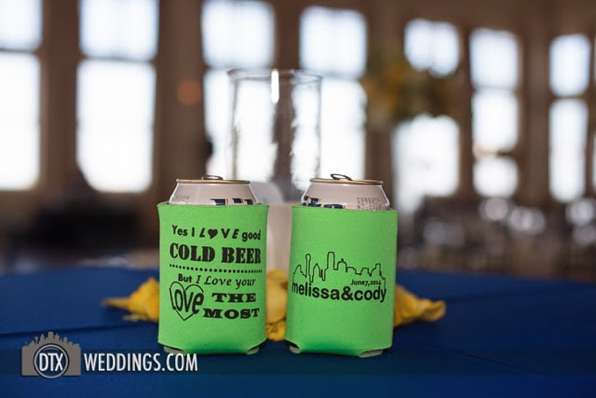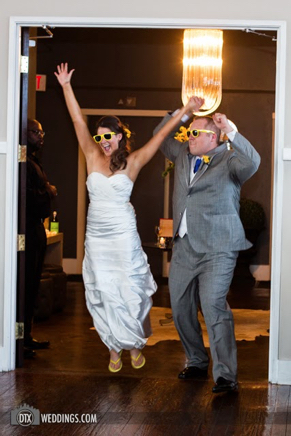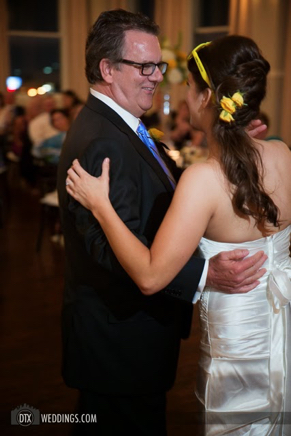 Melissa and Cody are die-hard Raider fans and this photo of them with the groom's cake shows their love for Texas Tech perfectly.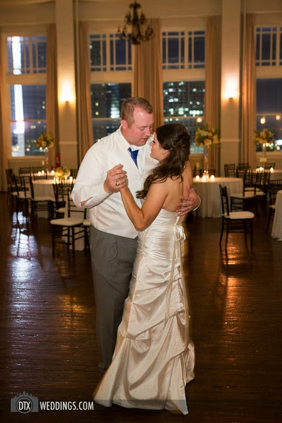 How awesome is this picture of Melissa and her bridesmaids singing and dancing like nobody is watching? We told you they were fun!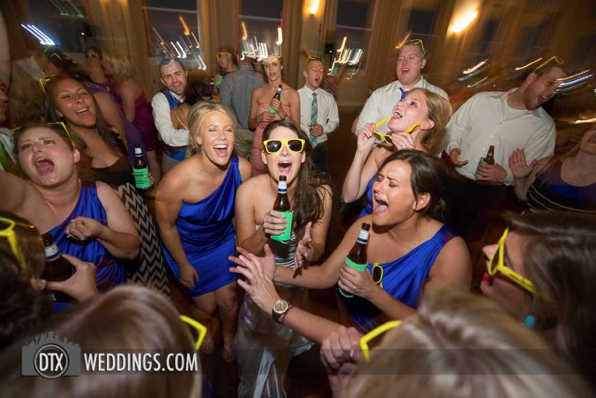 They ended the night with a special private dance to "She's Like Texas" by Josh Abbott Band and drove off on the bed of Cody's truck.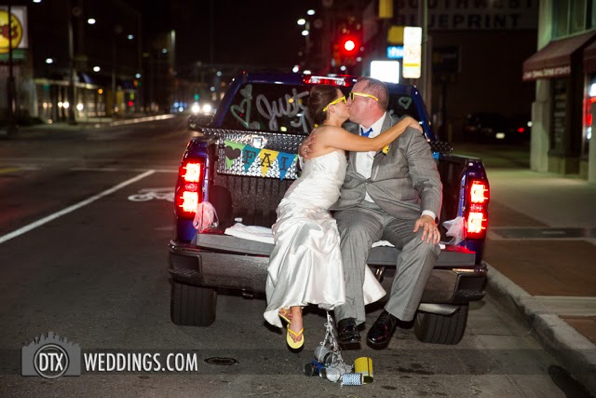 Are you looking to have great skin on your wedding day?
We are happy to be a part of the Image Skincare Launch Party on Thursday, March 13, at the Tower Club in Dallas, where we will be providing music and lighting. You can be the first to see and try new products before their worldwide introduction! Image Skincare will also be giving special discounts, gifts and prizes.
We're also happy to be working Kristin at Events By Kristin, who is helping to plan the Dallas Launch Party.
We hope to see you there!
www.imageskincare.com

The Venue: The Stoneleigh Hotel in Dallas
If you're looking for a vintage spot for a medium-sized wedding, The Stoneleigh Hotel definitely fits the bill. It has tons of character, especially the 11th floor which includes the Penthouse Suite with a huge rooftop terrace overlooking downtown Dallas. David & Chelsea were not planning a sit-down dinner, so they only used the Grand Salon for their ceremony. (This room is often times used for a formal dinner.) Instead, they had plenty of passed hors d'oeuvres to keep their guests fed.
Since the rest of the 11th floor is pretty spread out, I placed speakers in both the hallway and the bar area (aka The Library), one of them wireless.
Everything was well organized and flowed smoothly thanks Chelsea's awesome
Dallas wedding planner,
Kristin Mullen at Events By Kristin! I'll link back to the photos and video as soon as they are available.
The Music
David, Chelsea, and the bridesmaids spent a great deal of time brainstorming their favorite songs for their reception. Although I usually indicate which songs were on the bride & groom's playlist (to differentiate from the ones that I picked), I'll avoid putting asterisks all over the blog post. I'd estimate about 90% of what I played was directly from their list. They knew exactly what they wanted to hear and what would keep their guests dancing. Open dancing started around 8:00 and didn't end until midnight, and the floor was never empty!
Ceremony
Processional (bridesmaids entrance): Rolling Stones - She's A Rainbow [1968]
Bridal entrance: Bryan Adams - Heaven (ceremony edit) [1985]
Recessional: Natalie Cole - This Will Be (An Everlasting Love) [1975]
Cocktails
Journey - Lights [1978]
Chicago - Colour My World [1971]
Foreigner - I Don't Want To Live Without You (single version) [1988]
Gerry Rafferty - Baker Street (promo single version) [1978]
Elton John - I Guess That's Why They Call It The Blues [1984]
Fleetwood Mac - Hold Me [1982]
Hootie & The Blowfish - Hold My Hand [1995]
Ray LaMontagne - You Are The Best Thing [2008]
INXS - Never Tear Us Apart [1988]
Extreme - More Than Words (Remix) [1991]
Van Morrison - Moondance [1970]
Mr Big - To Be With You (promo single version) [1992]
John Denver - Take Me Home, Country Roads [1971]
Grand Entrance
Queen - You're My Best Friend [1976]
First Dance
Willie Nelson - Unchained Melody (first dance edit) [1978]
Father/Daughter
Beatles - In My Life (father-daughter edit) [1966]
Mother/Son
Jackson 5 - I'll Be There (mother-son edit) [1970]
Open Dancing
Cat Stevens - Wild World [1971]
Garth Brooks - Shameless [1991]
Abba - Take A Chance On Me (promo single version) [1979]
Four Seasons - December, 1963 (Oh, What A Night) (single version) [1976]
Michael Jackson - Rock With You (single version) [1980]
Elton John - Your Song [1971]
Righteous Brothers - You've Lost That Lovin' Feelin' (mono) [1965]
Wilson Pickett - Mustang Sally (mono) [1966]
Queen - Another One Bites The Dust [1980]
B-52's - Love Shack (single version) [1989]
Kenny Loggins - Footloose (LP version) [1984]
Chubby Checker - Let's Twist Again (mono) [1961]
Foundations - Build Me Up Buttercup (mono single version) [1969]
Isley Brothers - Shout (Parts 1 & 2) (w/o false ending) [1959]
George Strait - I Cross My Heart [1992]
Garth Brooks - Friends In Low Places [1990]
Pink - Raise Your Glass (Radio Edit) [2010]
Black Eyed Peas - I Gotta Feeling (Radio Edit) [2009]
Earth Wind & Fire - September [1979]
Salt-N-Pepa - Push It (Remix) [1987]
Run-DMC - It's Tricky (LP Version) [1987]
MC Hammer - U Can't Touch This [1990]
Michael Jackson - Billie Jean [1983]
Kool & The Gang - Celebration (single version) [1981]
Stevie Ray Vaughan & Double Trouble - Pride And Joy [1983]
Journey - Faithfully [1983]
Dixie Chicks - Landslide (Sheryl Crow Remix) [2003]
Cake Cutting
Barry Louis Polisar - All I Want Is You (from "Juno") [1977]
Alicia Keys - No One (first dance edit) [2007]
UB40 - Red Red Wine (LP version) [1988]
Black Eyed Peas - Pump It (Radio Edit) [2006]
Spice Girls - Wannabe (Single Edit) [1997]
Montell Jordan - This Is How We Do It (extended) [1995]
Usher f/Lil Jon & Ludacris - Yeah (Radio Mix) [2004]
Kesha - Tik Tok [2010]
Justin Timberlake - Like I Love You [2002]
Madonna - Vogue (Single Version) [1990]
Madonna - Music [2000]
Destiny's Child - Lose My Breath (Radio Edit) [2004]
69 Boyz - Tootsee Roll (Rap Version) [1994]
Cyndi Lauper - Girls Just Want To Have Fun [1984]
Rolling Stones - Start Me Up [1981]
Journey - Don't Stop Believin' [1981]
Bon Jovi - Livin' On A Prayer [1987]
Terror Squad - Lean Back (Clean) [2004]
Kanye West - Gold Digger (extended intro) [2005]
J-Kwon - Tipsy [2004]
Bob Seger - Old Time Rock & Roll [1978]
Beatles - Twist And Shout (mono) [1964]
Flo Rida f/T-Pain - Low (New Radio Mix) [2008]
Flo Rida - Good Feeling (extended) [2011]
LMFAO - Sexy And I Know It [2011]
Maroon 5 feat Christina Aguilera - Moves Like Jagger (extended) [2011]
Jennifer Lopez feat Pitbull - On The Floor (extended) [2011]
Destiny's Child - Jumpin, Jumpin [2000]
Jay-Z feat Amil & Ja Rule - Can I Get A (Clean Album Version) [1998]
Coolio - Gangsta's Paradise [1995]
Jay-Z - Dirt Off Your Shoulder (Mainstream Version) [2004]
Lou Bega - Mambo No 5 (Radio Edit) [1999]
Wham - Wake Me Up Before You Go-Go [1984]
Dexy's Midnight Runners Come On Eileen (promo single version) [1983]
Jennifer Lopez - Jenny From The Block (No Rap Version) [2002]
Ace Of Base - The Sign [1994]
Salt-N-Pepa - Shoop (Single Version) [1993]
Commodores - Brick House [1977]
Ben E King - Stand By Me (mono) [1961]
Frank Sinatra - The Way You Look Tonight [1964]
Dolly Parton - 9 To 5 [1981]
Van Morrison - Brown Eyed Girl [1967]
Nelly Furtado feat Timbaland - Promiscuous (Radio Edit) [2006]
Timbaland feat Nelly Furtado & Justin Timberlake - Give It To Me (Extra Clean) [2007]
Timbaland feat Keri Hilson - The Way I Are (extended) [2007]
50 Cent Candy Shop (Clean) [2005]
Beyonce feat Jay-Z - Crazy In Love [2003]
Jackson 5 - Never Can Say Goodbye (mono) [1971]
Semisonic - Closing Time (Radio Edit) [1998]