The Venue: Heard Craig Hall in McKinney
McKinney has some great, historical spots for weddings, and this was the first time I had played at Heard Craig Hall. One of my favorite features is the large white pillars around the room, which looked incredible with uplighting.
Austin wedding photographer
Geoff Duncan did an outstanding job with the photos!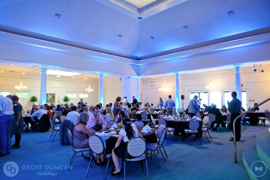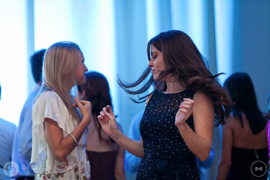 Jason & Meredith had originally planned on having their reception outdoors at Chestnut Square, which is also a really neat spot; however, their guest count had gotten larger than they anticipated, and the weather was forecasted to be pretty warm. They still had the ceremony in the chapel at Chestnut Square, but then everyone headed to Heard Craig for the party!
Another unique feature of the hall is the large stage, which is what they usually use for the dance floor. In one of our early meetings, Meredith had reservations about whether people would want to walk up the steps and onto the stage for dancing, and admittedly, I did, too. Thankfully her friends and family were not shy at all, and they had no problem making their way onto the large stage, which is where I set up the speakers and dance floor lighting, as well as a few uplights along the back curtains. The rest of the DJ equipment was set up on the main floor next to the stage.
The Music

Musically, Jason & Meredith asked me to mix in some of their favorite indie pop & rock, along with some mainstream favorites and classics. Below is their wedding playlist, which includes several requests from their guests, too. Please note that this is what was
actually played
at their wedding.
* from Jason & Meredith's request list
** requested by one of their guests
Cocktail Hour
Norah Jones - Come Away With Me [2002]
Dave Matthews Band - You And Me (Radio Edit) [2010]
Weepies - Somebody Loved [2003]
Ray LaMontagne - You Are The Best Thing [2008]
David Gray - This Years Love (Strings Remix) [2001]
Goo Goo Dolls - Iris (Edit) [1998]
John Mayer - 3x5 [2003]
Ingrid Michaelson - The Way I Am [2007]
Coldplay - Clocks (Edit) [2003]
Lifehouse - You And Me [2005]
Norah Jones - Don't Know Why [2002]
Jason Mraz & Colbie Caillat - Lucky [2009]
Feist - Mushaboom [2009]*
Beatles - All You Need Is Love (mono single version) [1967]
Fisher - L-O-V-E [2002]
Coldplay - Til Kingdom Come [2005]
Cat Power - Sea of Love [2000]*
Grand Entrance
Barry Louis Polisar - All I Want Is You (from "Juno") [1977]*
Dinner
Mae - The Ocean [2005]*
Amy Winehouse - Someone to Watch Over [2008]*
Death Cab For Cutie - I Will Follow You Into The Dark [2005]*
Ella Fitzgerald - Blue Skies [1958]*
Passion Pit - Sleepyhead [2010]*
Goo Goo Dolls - Black Balloon (Radio Remix) [1999]*
Black Keys - You're the One [2006]*
Billie Holiday - Blue Moon [1950]*
Imogen Heap - Can't Take It In [2006]*
Feist - 1234 (Radio Version) [2007]
Spill Canvas - Valiant [2002]*
Copeland - Priceless [2003]*
Ella Fitzgerald - Tea For Two [1963]*
Mae - Somewhere [2008]*
Iron & Wine - Such Great Heights [2003]*
David Gray - Babylon (Radio Mix) [2000]
First Dance
Beatles - In My Life (first dance edit) [1966]*
Father/Daughter
Norah Jones - Seven Years (father-daughter edit) [2002]*
Open Dancing Begins
Etta James - At Last [1961]**
Louis Armstrong - What A Wonderful World [1968]
Mr C The Slide Man - Cha Cha Slide (Radio Edit) [2000]**
Temptations - Ain't Too Proud To Beg (mono) [1966]
Beatles - Twist And Shout (mono) [1964]
Michael Jackson - Thriller (promo single version) [1984]**
Bob Kames - The Chicken Dance [1981]*
(I don't normally play this song, but there was a special story behind it for Meredith and her parents.)
Frankie Yankovic & His Yanks - Beer Barrel Polka**
George Strait - Amarillo By Morning [1983]
Why Don't We Just Dance - Josh Turner [2009]
Just for Fun
Texas Tech - Fight Raiders, Fight (groom's school)
The University of Texas Longhorn Band - The Eyes of Texas (bride's school)
(There were two groom's cakes: one with the Texas Tech logo and one with the UT logo.)
Cake Cutting
James Taylor - How Sweet It Is (To Be Loved By You) [1975]*
Average White Band - Cut The Cake (single version) [1975]**
George Strait - I Cross My Heart [1992]
Cupid - Cupid Shuffle (extended) [2007]**
Van Morrison - Brown Eyed Girl [1967]**
LMFAO - Party Rock Anthem (Updated Radio Edit) [2011]
Flo Rida - Low (New Radio Mix) [2008]
Bouquet Toss
Dixie Cups - Chapel Of Love (mono) [1964]*
Garter Toss
Flo Rida - Right Round (Single Version) [2009]*
Eric Clapton - Wonderful Tonight (single version) [1978]
Michael Jackson - Don't Stop 'Til You Get Enough (promo single version) [1979]
Tone Loc - Wild Thing [1989]
Black Eyed Peas - I Gotta Feeling (Radio Edit) [2009]**
Neil Diamond - Sweet Caroline [1969]**
Randy Travis - Forever And Ever, Amen [1987]
Roy Orbison - Oh, Pretty Woman (mono single version) [1964]
KC & The Sunshine Band - Boogie Shoes [1978]**
Run-DMC - It's Tricky [1987]
Taio Cruz - Dynamite [2010]
Natalie Cole with Nat King Cole - Unforgettable [1991]**
Exit Music
Imogen Heap - Goodnight and Go [2005]*